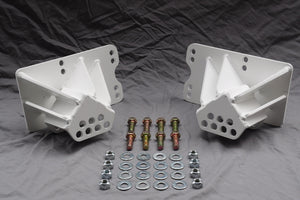 Shackle Reverse Brackets
These brackets allow you to reverse the shackle on your rear leaf springs. It's a great way to get added lift without blocks or an add-a-leaf. Depending on how you mount them they will provide anywhere from about 2"-4.5" of lift at the rear tires. Another benefit of these brackets is the much improved shackle angle. This allows for more flex/droop of your rear axle for better off road performance. It further improves flex as the new shackle angle actually reduces the effective spring rate slightly. The best thing about these brackets is they are adjustable anywhere from about 2"-4.5". You can also fine tune that adjustment to about 1/8" increments to dial in the perfect stance for your truck. This adjustment also allows you to move them as necessary as you add to or modify your trucks suspension in the future.
Comes powdercoated BLACK using our 4 stage powder coat process and all grade 8 mounting hardware.