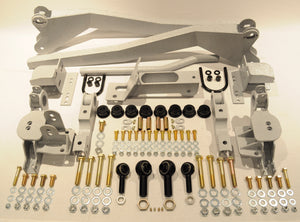 Dana 60 Solid Axle Swap Kit - Stage I
*This product is shipped via freight. If you order other products, shipping will be calculated based on the other products and the freight shipping cost will be invoiced to you via email after purchase.
Stage I kit is a cost saving option for those who want to install the beefy Ford straight axle Dana 60, already have a 4" or 6" suspension lift and will use current coil springs, shocks and extended brake lines. To maximize the potential of this suspension kit you will need to upgrade those components. You can easily upgrade all the way up to the Stage III kit as time and budget allows. For those who have a Bronco or F150 with the stock suspension, you will want to start with the Stage II kit.

The Stage I is a fully bolt on kit. No cutting, welding or measuring is required. This kit consists of all the brackets, arms and hardware necessary to bolt in a Ford Dana 60 front axle. It's designed to work with Ford Dana 60's from the 85 to 97 F350's, either the king pin or ball joint versions. Included are all bolt on brackets; axle brackets, radius arms, radius arm brackets, track bar bracket, track bar, coil mount cups, high quality EMF rod ends, and all necessary Grade 8 hardware. Coil springs, shocks, shock adapter brackets, extended brake lines are available as options.
Note: Your current shocks and brake lines are likely too short for high flex situations. You MUST upgrade to longer shocks and brake lines before any serious off-roading/flexing of the suspension. All parts are powder coated black using our 4-stage powder coat process. Comes with installation instructions and all hardware.
Click here for more detailed information. Contact us with any questions.