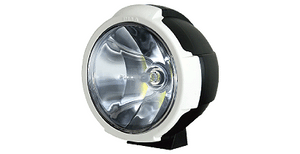 PIAA RSS800 Series Lights
Whether you're racing across Baja or simply traversing your favorite back road, the RS800 Halogen Shock Lamp offers unmatched durability. It's indestructible, with its high impact resistant polyamide housing, unbreakable polycarbonate hardclear-coated lens, and stout mounting system. Even better, the Shock Lamp features computer-designed Multi-Surface Reflector with Twin Color Dual Beam H4 bulb. The result? Legendary PIAA illumination in a package engineered to perform anywhere – in any conditions. Designed specifically for race applications, the PIAA Shock lamp is not sold as a complete kit. See details below. Not recommended for highway use.
Includes 2 lamps and wiring harness.
Great choice for grill guard accessory light tabs.